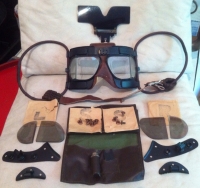 A SERIOUSLY RARE, SUPERB & COMPLETELY 'AS ISSUED' BOXED SET of RAF 'BATTLE of BRITAIN' MkIV GOGGLES.
(WITH FULL ACCESSORIES & SPARES.)

Manufactured by Lever Optical in 1940.
A Staggeringly Lovely Set!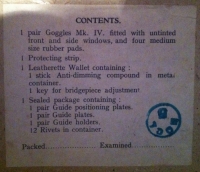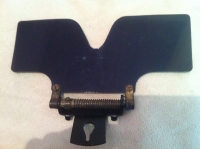 This lovely set is 100% totally 'as issued' during the dark days of potential German invasion in the summer of 1940 when the balance of Christian civilisation hung precariously in the scales. That balance was held solely in the hands of the brave fighter pilots of RAF Fighter Command.This set is exactly what these brave lads picked up at the stores before flying off to fight the Luftwaffe in the summer skies of 1940 over Southern England. The young men who saved England and the free world from the hell of Nazi domination did so while looking through the glass lenses of goggles exactly like these. To"THE FEW" we give our thanks.
This assembly is the ULTRA RARE MkIV edition (they are almost invariably the slightly later MkIVb type 22C/167 ) of what was basically a three stage developing type.These are the 'original' first type design designated as 22C/111 which have the 22C/117 'anti-glare' flip sun screen issued later as per the box label invitation.
Seldom does one see, even in individual parts, anything like this set condition wise as there is not a paint chip,or a scratch anywhere...it's all totally 'crisp' ! So to see a totally original and complete boxed MkIV assembly at this late date 74 years after it's original issue date in 1940 is more than truly remarkable.
The parts list of extra tinted lenses and adaptor plates etc is displayed on the underside of the box lid and the contents are confirmed as being 100% present and correct, right down to the tiny sun screen affixing tool !!!! There are even two extra copper attachment rivets ( normally 12 ...we have 14 ) all of which are still contained in their original letter stamped positional reference envelope !!
THIS IS A TRUE TIME CAPSULE
Having sold a similar set some time ago at £950 ( see the item lower down on our list ) someone very recently asked us to get him another set in this level of superlative condition, (and as these are mega rare, that's no mean feat) and typically now it's available, he has suddenly 'cried off'..he didn't even say 'thank you'.
Therefore, if you are one of the many other people who have asked us for one of these sets you might now like to get back in touch with us on 01342-870926.
IF YOU CURATE FOR A FLYING or MILITARY MUSEUM OR SIMILAR INSTITUTION YOU MIGHT LIKE TO CONTACT US TO DISCUSS AN ACQUISITION AS WE GUARANTEE THIS ASSEMBLY WILL SERIOUSLY 'FLOAT YOUR BOAT'
PART EXCHANGE WITH MEDALS OR OTHER INTERESTING RFC or RAF ITEMS IS WELCOME

SOLD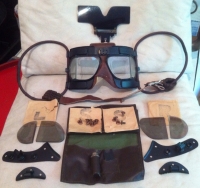 .






"NEVER IN THE FIELD OF HUMAN CONFLICT WAS SO MUCH OWED BY SO MANY TO SO FEW"

(Winston L.S. Churchill, House of Commons. London. 1940 )