1st DAY (BATTLE of THE SOMME) CASUALTY.
1914-15 STAR TRIO & PLAQUE.
To:
18944. PTE. WALTER CLAXTON WALES.
Killed in Action.
1st July 1916.
With 9th Bn, Kings Own Yorkshire Light Infantry at the assault on Fricourt.
A classic group from one of THE most collectable units serving on the Somme in 1916. The 9th K.O.Y.L.I.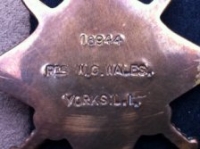 At 07:30 on Saturday 1st July 1916, 9th battalion went over the top in an attack on Fricourt (Gird Trench). The unit advanced in good order under heavy machine gun and mortar fire over a distance of 1,500 yards. At just 50 yards from the objective the battered survivors from this initial assualt took cover in pre-existing shell holes. The losses during these first few minutes from machine gun fire and shrapnel were catastrophic. The men who had taken shelter in these craters maintained their postion all day and were not withdrawn until nightfall.
The casualties from this appalling waste of life were:
Four Officers killed, Six wounded, Three missing.
Other ranks, 43 Killed, 180 Wounded, 153 Missing (most of whom were never found), thus over 200 lives lost.
Walter Claxton Wales, aged 38, was one of these brave men who have no known grave.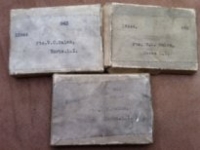 With original boxes, and Letter of Issue for his Victory Medal.
Walter Wales was born in Wicker, Sheffield in 1878 and enlisted in Sheffield in late 1914. He entered France on 11th September 1915.
He had a slightly problematic past history as he is shown as a civil prisoner (thought to have been held in Wakefield Prison) on the 1911 National Census.
( Photocopy of Prison Census roll included). He was already married at the time of his imprisonment and is shown as being a General Labourer of age 34. Further research may expose his crime.
Also included are a copy MIC confirming K in A. and two pre war census returns.
His pre war address was 8/1, West Steet, Sheffield which is where the medals were sent in 1921, to his widow Mrs Mary Wales.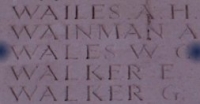 He is commemorated with honour on the Thiepval Memorial to the missing.
A CLASSIC GROUP FIT FOR THE FINEST COLLECTION.
MEDALS MINT
-SOLD-