A Most Amazing
"FIVE TIMES A CASUALTY"
( 6th /7th and 8th, Lincolnshire Regiment )
1914-1915 Trio with amazingly complete and original papers.
To:
15386. Pte A. DAVIS. LINCS. R.


(A VERY RARE & COMPLETE "WOUNDED" DOCUMENT, ARMY & PRIVATE DOCUMENT ASSEMBLY TO A SERIOUSLY GALLANT & RESILIENT LINCOLNSHIRE LAD.)


In all our time in the medal business we've never seen anything quite like this for bravery, determination and valour ( and yet no gallantry award !)
Albert Davis was a Scunthorpe lad who prior to the war was a young rollerman in the steel industry. Davis had an extraordinary war with service at Gallipoli, Egypt and France.
LINCOLNSHIRE REGT. 6th (Service) Battalion
Formed at Lincoln in August 1914 as part of K1 and attached to 33rd Brigade in 11th (Northern) Division. Moved to Gallipoli in July 1915. Landed at Suvla Bay 7 August 1915. Went to Egypt in January 1916 and thence to France in July 1916.
Davis is recorded as having attended a Lewis machine Gun Course in Egypt in January of 1916.
On arrival in France he is shown by several letter grams to have been wounded no less than 5 times between 8th August 1916 and 22nd October 1918.
Davis clearly survived all his ordeal by some miracle and by another miracle of care by his family all his OHMS wound notifications have also survived!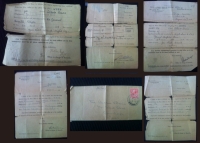 THUS :
8th August 1916 "WOUNDED IN ACTION" (with 6th Lincs)
28th Sept 1916 " SHELL SHOCK" (1 Convelecent Hosp, Boulogne) (6th Lincs)
22nd August 1917 "SHRAPNEL WOUND, LEFT ARM" (54th Field Hosp) (8th Lins)
18th August 1918 "GAS SHELL WOUND"(SEVERE) 12th St Loius USA,Hosp,RUEN
22nd October 1918 " GUNSHOT WOUND RIGHT LEG"(26th Field Hosp Etaples).
(with 7th Lincs)

Also included is his soldiers' Small Book and various other service documemts which include all his discharge papers and his childens' birth notifications.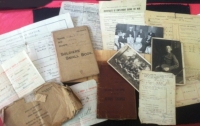 There is a super photo of Davis in uniform clearly taken (as usual) before his departure to the war.
All in all, this is a totally superb and historically most important grouping of major interest to a serious Lincolnshire collector.
First come, First Served
SOLD