A remarkable "Early Somme" casualty.  
1914 Star & Bar, Victory Medal & Plaque;
(War medal melted in 1930's) 
To:
10491. Pte. W.H. PERRY, 2nd/East Lancs Regt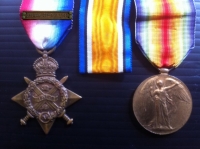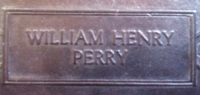 & later
19609 Cpl W.H. Perry 24th Coy, Machine Gun Corps (Infty).
 (D.O.W. 13th July 1916).
ALMOST CERTAINLY SEVERLY WOUNDED ON
DAY ONE of THE BATTLE OF THE SOMME (1/7/16) .
In Wijnberg South Africa at the outbreak of war, Returned to Southampton 30th October 1914. Entered France 5th /6th November 1914 at Le Havre.
Fought at Neuve Chapelle, Aurbers, and Battle of Albert.     

Buried at St. SEVER CEMETERY, ROUEN. FRANCE. A29/7.
SOLD