A RARE & HISTORICALLY IMPORTANT
"Race to the Sea"
1914 Star & Bar Trio. Scroll & original papers.
To:
L-6118. Pte. G.C. SAUNDERS. 1/East Surrey Regt.
KILLED IN ACTION
1st Battle of Ypres.
(The Battle of La Bassée: 10th October - 2nd November 1914)
1st Battle for Neuve-Chapelle
at
(Richebourg-L'Avoue)
28th Oct 1914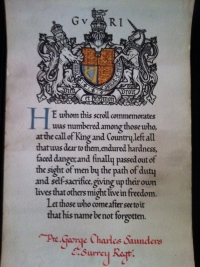 A classic Regular Army "Old Contemptible" soldier of the Original B.E.F.
who landed in France on 16th August 1914.
George Saunders, who fought with 1/East Surrey Regiment, (II Corps) was Killed In Action during the 1st Battle of Ypres at the first battle for Neuve Chapelle. On 28th October 1914 the British positions to the north side of the Givency-Lorgies road at Richebourg-L'Avoue came under a massive artillery and infantry attack from the then still partially intact village of Neuve Chapelle just to the North East.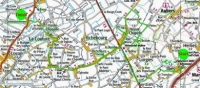 The village had fallen into German hands a day earlier during their night attack of 26/27th October. It was probably during the bitter hand to hand fighting which tool place during the failed British counter attack on the 28th that George Saunders lost his life. There were many many casualties during this fierce battle and the CWG records are strewn with the details of men lost on this terrible day. II Corps lost a staggering 14,000 men during October 1914.
The group comes with the original scroll and a Very Rare War and Victory Medal issue letter which still retains its unreturned tear off acknowledgement slip.
Also included is an interesting hand written communication by Mrs E.E. Brooks who was the Vicar's wife at St Barnabas' Vicarage, King Square. E.C. Mrs Brooks had written to the Army Pay Office on behalf of Mrs M.K. Saunders who was, on 4th September 1914, the "separated wife" (due Military service) of Pte George Saunders. Margaret Saunders had three children with George Saunders and she had been underpaid her married, children and London allowance. This was clearly causing hardship while her husband was fighting in France. It is almost certain that the couple never saw each other again as George was killed just eight weeks after this letter was written.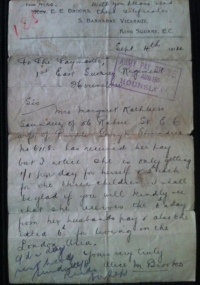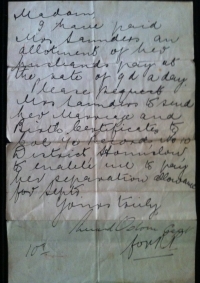 L-6118, PTE, G.C. SAUNDERS HAS NO KNOWN GRAVE
AND IS COMMEMORATED ON THE LE TOURET MEMORIAL.
A CLASSIC EARLY B.E.F. CASUALTY WITH ULTRA RARE PAPERWORK.
WORTHY OF MUCH FURTHER RESEARCH AND
INCLUSION IN THE FINEST COLLECTION.
£895