An excellent
MILITARY MEDAL & PAIR
(with Miniatures & ribbon bar)
"Auchencairn"
To:
6230. Pte. Andrew Muir. 1/9th (Glasgow Highlanders) H.L.I.
Later, 332961. Cpl Andrew Muir,1/9th H.L.I. ...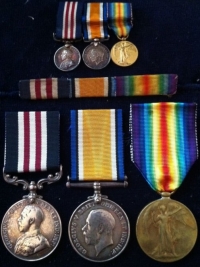 & his brother'S 1914 -15 Trio:(with miniatures)
10676. Pte. James Muir. 4th Canadian Infantry.


An interesting Scots family assembly with much historic detail and research.
The medals have much contact with the Auchenleck and Auchencairn area.
Andrew Muir was born in 1884 and later worked as a baker with Gillone & Co in Tongland. He enlisted in May 1916 and joined 3/1st Lanarkshire Yeomanry on 1st June 1916. Landed France 6th December 1916. Served with great valour at the Battle of Menin Road (3rd Ypres) where the unit lost 450 men killed and wounded. At Neuve-Eglise the unit received the famous "Backs to the Wall" signal from General Haig. The unit lost a further 130 Glasgow Highlanders in the weeks fighting at Neuve-Eglise (11th -17th April 1916). No less than 41 gallantry awards were won during the action and Andrew Muir was one of the 25 men decorated with the Military Medal.
Luckily, the details of award and his actual citation was carried in the KIRKUDBRIGHTSHIRE ADVERTISER in July 1918.
"Private Andrew Muir, Glasgow Highlanders, has been awarded the Military Medal for gallant service during operations in France from 11th -17th April. The Official story of his bravery reads as follows"
"The enemy made two very strong attacks on our position, and Private Muir by his use of his Lewis gun was responsible for a large number of the enemy casualties. On another occasion he went out in front of our line with his gun and dispersed a party of the enemy who were attempting to dig in under cover. They suffered many casualties.
Throughout the operations he displayed great coolness and set a splendid example"

Andrew Muir worked in Liverpool for many years but retired back to Auchencairn where he was a guest of honour at the unveiling of the war memorial in August 1920.
ANDREW MUIR DIED AT AUCHENCAIRN ON 3rd MARCH 1965 AGED 80
JAMES MUIR DIED IN LONDON, ONTARIO, CANADA 14th FEB 1927 AGED 41.
JAMES & ANDREW MUIR HAD A BROTHER NAMED
WILLIAM CLINT MUIR (995 LANARKSHIRE YEOMANRY, DIED 19th Feb, 1916)
WHO IS ALSO BURIED IN THE FAMILY PLOT. IT IS NOT CLEAR WHAT HAPPENED TO HIM....HE WAS AGED JUST 21.
THE FAMILY GRAVE STONE IN AUCHENCAIRN CEMETERY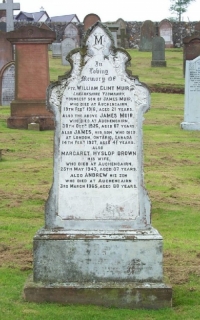 An excellent family grouping worthy of much further research and inclusion
in the finest collection.
"SOLD"