1914-18 Silver War Medal, Plaque, Scroll & papers.
To:
41917. Pte. ERNEST CHARLES EVERY.


19th Bn Manchester "PALS" Regt.
Killed In Action
2nd April 1917
during the attack on the village of Henin-sur-Cojeul.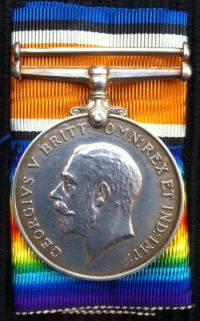 A Single war medal, plaque, scroll and document assembly to a Manchester Pals 19th Battalion soldier who was probably killed by sniper fire at the village of Henin-sur-Cojeul.


HISTORY
The 19th Bn No.4 Company, Manchester Regt, moved off From Madeleine redoubt at 8.30pm on the 30th March and relieved A Company of the 2nd Yorkshire's. A patrol of 4 Company ascertained that the enemy was in occupation of Nagpur trench. Movement was observed at a cross roads and a machine gun was directed on the patrol from the West corner of the village of Henin-sur-Cojeul.
At 2.00am on the 1st April an attack on the Garrison by about 50 enemy was repulsed and driven back to Nagpur trench. On the 2nd April, during the attack on the village, the lewis guns of the Company opened up on an enemy strongpoint that had been holding up the advance with snipers. On the evening of 3rd April, the Company was relieved by the Royal Scots Fusiliers.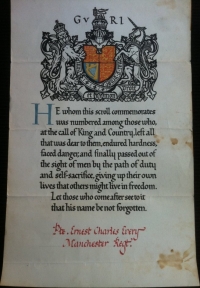 Complete with Plaque, Commemorative Scroll,



Issue Letter (30th May 1922...with rarely seen receipt still attached and unsent by his widow.)
This is a particularly sad and emotive group as Mrs M. Every was clearly unable to accept that her husband was in fact dead. Included here is the original Red Cross & St John letter of 16th September 1918 in which she is politely but firmly told that, despite her pleas to check that he was not among the repatriated soldiers with lost memories, that he had given his life on 2nd April 1917. ......

"WE BEG YOU DEAR MADAM, TO LAY ASIDE VAIN HOPES AND TO RECONCILE YOURSELF TO YOUR GREAT LOSS"
The War Office and his C/O had already written to her and his father to confirm Ernest's death in early 1917.

AN EXCELLENT ASSEMBLY TO A MANCHESTER PAL

(Actually from 49 Tunis Road, Shephard's Bush, London.
(The address is still there)
£495