A Magnificent and Highly Important Naval OBE (Military)
&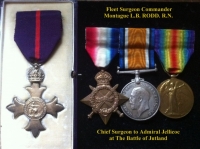 1914-15 Trio.
To:

Fleet Surgeon Commander, Montague L.B. RODD. R.N.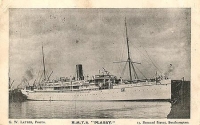 Served as Medical Officer in Command in H.M.Hospital Ship PLASSY at Battle of Jutland
(OBE Citation, LG 22.8.19. Part by Admiral Sir John Jellicoe R.N.)
"This officer has an excellent record throughout the whole of his career. He was specially reported on in 1913 for his administrative and operating ability. During the war he served in H.S "Plassy" and
Admiral Sir John Jellicoe said,
" Has been a very successful and well run hospital ship, the credit of which is due to this officer"  He also served at The Royal Marine Infirmary, Deal, and has run the establishment most successfully and a report recently received from Brig-General Parsons recommended him for the C.M.G. for his excellent successes in the influenza epidemic ". 
LONDON GAZETTE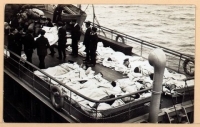 Wounded sailors being brought aboard HMHS Plassy at The Battle of Jutland.  
PLASSY 1901
Official No.109259, 7,405 gross tons, length 450.3ft x beam 54.2ft, two funnels, two masts, two triple expansion three cylinder engines, twin screw, speed 16 knots. Accommodation for 114-1st and 87-2nd class passengers. Designed for the intermediate passenger service, but used almost exclusively as a trooper and hospital ship. Launched on 23rd Nov.1900 by Caird & Co, Greenock (Yard No.296) for the P & O Steam Navigation Co and delivered on 9th Jan.1901. 25th Sep.1906 seriously damaged in collision with the steamer MASTERFUL while berthed at Southampton. Repaired and returned to service. July 1924 sold and scrapped at Genoa. [P & O. A Fleet History by Rabson & O'Donoghue]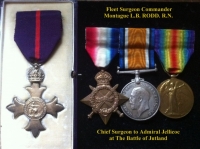 HIGHLY IMPORTANT GROUP THAT WILL FIND A PLACE IN THE FINEST COLLECTION OF WW1 ROYAL NAVY MEDALS.
ALL MEDALS ARE "MINT"
(With Copy Medal Roll and Original Citation) 

(SOLD)