A interesting little grouping.
WW1 Pair.
West Yorks Regt
To:

59363. Pte. T (Thomas).F. BROCK. W.YORKS.REGT.

and
An East Yorks Regt & a VERY RARE 8th Leeds Rifles cap badges

(Tom Brock was probably a P.O.W. Guard at Catterick camp during 1917.)
See POW photo postcard above sent by "Tom" September 1917 showing a group of German prisoners of war behind a board marked
"CATTERICK 1917 ENGLAND" The lot includes this very rare original picture of German POW's at Catterick camp in 1917 (value £60)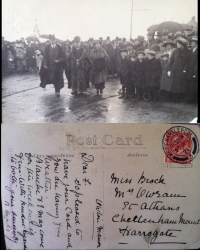 and a picture of the Mayor of North Hartlepool on a civic visit to a northern town.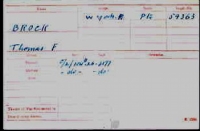 AN HISTORICALLY IMPORTANT GROUPING OF MUCH YORKSHIRE INTEREST .
£225