BALTIC MEDAL
(1856)
To: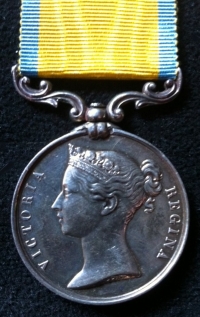 AB. WILLIAM SURMAN. HMS NILE.

(Privately engraved "WILLIAM SURMAN" in large neat seriffed capitals).

William Surman was born on 5th July 1836 at Kiddlingworth, Wiltshire.
Volunteered 7th July 1854 (No.13871) HMS NILE.
Medal Sent to HMS Duke of Wellington on 30th Feb 1857. 
1861 Census, HMS CYCLOPS (Paddle Frigate 1839-64) North Atlantic. 

Pleasing and about EF.
SOLD