An Excellent & Rare
1st Afganistan War (1842) 
&
Long Service Good Conduct pair
to:
(The Welsh Regiment)
41st Foot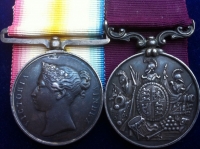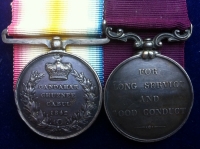 Comprising, The Kandahar, Ghuznee & Cabul reverse medal of 1842 fitted with a neat, private and contemporary silver suspender. 





To:
  JOHN DAVIDSON 41st Foot (ex-45th Foot Nottingham Regt) 
( Welsh Regiment )
Officially Engraved in small neat
Serifed Capitals 

Victorian L.S.G.C. with swivel suspender. 
To:
Sgt. JOHN DAVIDSON 41st Regt.
( Welsh Regiment )
Officially Engraved in Large Serifed Capitals of superb workmanship and style.




John Davidson's papers record that he initially joined the 45th Foot (Nottinghamshire Regt) on 22nd May 1834 at age 18. He was previously a brick maker. He later transferred to the 41st Foot (Welsh Regt) and is shown as being, "in possession of one medal for service in Afghanistan and four good conduct badges".
After 22 years and 6 days service his papers record that on 26th May 1856 he was discharged as medically unfit for further service due to service in severe climates ! 
He had also apparently been, 'hit on the head with a stone'.
He sustained this injury during 1848 and it clearly continued to trouble him, leading to his eventual discharge in 1856.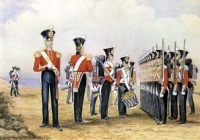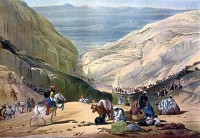 Welsh Regiment Soldiers and the British Army in an Afganistan mountain pass.  


A superb and very rare early pair to the much sought after 'Welsh Regiment'
New to the Market and never previously offered for sale.

Court Mounted and GVF.
Attractively toned natural black and totally original with superbly executed officially engraved naming on both awards. Includes 4 sheets of copy service records in colour.


Only 494 medals were awarded to the 41st Foot Regt.

£1750 RESERVED