A Highly Desirable.
SERINGAPATAM MEDAL
(India)
1808.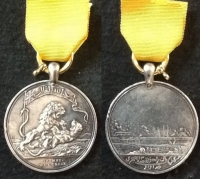 Silver (48mm) Original London Striking.
A wonderful item is superb sharp and original condition.
With hallmarked SILVER suspension clip and a Victorian period
*GOLD Circular Spring Loaded Ribbon loop.
(*These are normally silver when this type is used)     

VERY RARE THIS NICE......ONE ONLY !
/strong>