A SUPERB
'Battle of the Somme'
Casualty 
MILITARY MEDAL,
1914 Star & Bar Trio,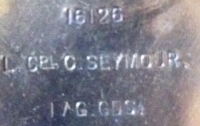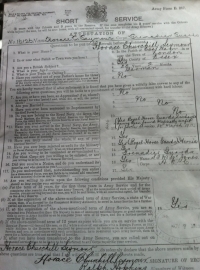 To:
 16126. Pte. L.Cpl. H.C. Seymour
1/Grenadier Guards.

HORACE CHURCHILL SEYMOUR
was
KILLED IN ACTION 
21st September 1916
At Trones Wood, just before the final advance on Lesbouefs.

LONDON GAZETTE
11th OCT 1916.


Military Medal 16126. L.Cpl. H.C. SEYMOUR 1/G.GDS

1914 Star   16126.  L.Cpl   C. SEYMOUR 1/G.GDS

War Medal (Original medal absent) Blank Supplied

Victory Medal 16126. Pte. H. SEYMOUR  G.GDS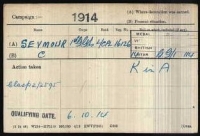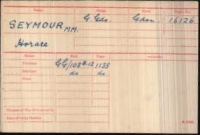 This group totally proves that the medal naming office really did use the Medal Index Cards as an immediate reference at the time of physically naming the medals.

This soldier who had two initials (H & C) also has two MIC's.
One for his 1914 Star on which he appears as L.Cpl C. SEYMOUR,
( his star is impressed as such)

His second MIC shows Pte H(orace) SEYMOUR
(as does his Victory medal)

The numbering to all three medals is however consistent throughout as 16126.

His rank differs between Private and L.Cpl because Seymour is seen on his service papers as being  promoted and demoted no less than three times during the war. (Once 'busted' by the Commanding Officer himself just 4 days after he arrived in France.)
We don't know what the oft' Lance Corporal Seymour had been up to but he was regularly becoming Private Seymour !   

He started as a private, was promoted Lance Corporal twice and finished up as a Private !  Although he was killed as a private, his MM is impressed to L.Cpl.
His final promotion to L.Cpl was on 12th December 1915 which indicates his MM was earned early in the Somme campaign, probably in July with many of these early Somme awards actually being for 1st July and further research may tie the actual award date down further. 

He was again demoted to Private on 8th September 1916 and killed in action 13 days later on the 21st.    

Seymour, from East Ham, London, had been a Barman prior to his enlistment originally joined the Royal Horse Guards in 1911 (as Pte 1436) but was discharged as medically unfit due to a hernia.

Obviously medically recovered and still being a keen lad of 20 he is again seen signing on for the Grenadier Guards on 1st November 1912.

Seymour entered France as part of the BEF on 6th October 1914.

The 1st Battalion Grenadier Guards participated in all the major actions of 1914-15 and further took part in the Battle of the Somme from 1st July 1916.

After much bitter fighting on the Somme during July and August 1916 the 1st battalion is seen re-kitting and taking in reinforcements at a rest station in Carnoy on 17th September having been recently relieved at the front.

Three days later it went back to the trenches west of Lesboeufs, then, on 21st September 1916 it moved to Trones Wood. This is doubtless where Horace Seymour was killed in action while re-defending the position.

On 24th September 1916 his unit was in assembly trenches ready for the following day's successful attack which led to the capture Lesboeufs.
Medals are all EF + with original ribbons, Group includes the original and genuine 1914 Clasp and Silver Rosette. A four page service history copy and copies of the two MIC's.
Horace was the son of Mr Churchill Seymour and Mrs Kate Seymour of
5 Pentland Street, Wandsworth Common, London.
The address is still extant.
He is Commemorated on The THEIPVAL MEMORIAL to the Missing, Somme, France. Pier and Face 8D.            
A RARE & APPEALING AWARD TO AN OLD CONTEMPTIBLE CASUALTY WHO GAVE HIS LIFE IN ONE OF THE ARMY'S MOST FAMOUS REGIMENTS AT THE INFAMOUS
BATTLE OF THE SOMME 

£1425  


GROUP NOW INCLUDES A LOVELY 'TRENCH ART' TEA TRAY IN COPPER WITH CENTRAL R.F. BADGE & PHOTOGRAPH. THIS BEARS A HAND STAMPED INSCRIPTION ' IN MEMORY. HORACE CHURCHILL SEYMOUR. GRENADIER GUARDS, 21 SEPTEMBER 1916. THE WORLD WAR .( Note: this item and the photo has just been kindly supplied to us by a gentleman in Scotland who purchased it at an antique show in Edinburgh, which is hundreds of miles from where the medals turned up ! ) now history will always know what Horace looked like !