An Emotive, Early and highly desirable

"Old Contemptible's"
Queen's South Africa Medal (Four Clasps) (QSA Tightened at swivel) 
1914 Star & Bar Trio
with 
Plaque.
To: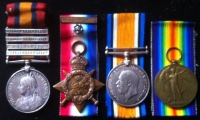 3229. Sgt D. JARDINE. 2/Scots Guards
who was 
(Killed In Action)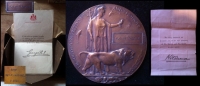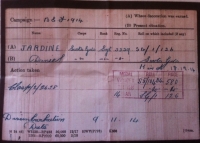 In the infamous action on the SAILLY-FROMELLES ROAD on 18th December 1914 in which the battalion lost 180 men to withering German machine gun fire while attacking the enemy front line trenches.
This was part of a fierce hand to hand two day action in which Private James MacKenzie also of 2nd Btn Scots Guards won the Victoria Cross for rescuing a wounded comrade under heavy fire. MacKenzie was also killed by a sniper the next day.
Telegram from Jardine at Wellington Barracks, London, telling his wife and small son that he was "To The Front" the next day and to "cheer up"
(Date Stamped "Cyldebank" 5th November 1914) 
His unit arrived in France on 9th November 1914. 
She probably never had word from him again. 
Historical Background
Jardine was killed in action at Rouge Bancs on 18 December 1914, while serving in the 2nd Battalion, Scots Guards.

The Battalion sustained around 180 casualties that day, having encountered heavy machine-gun cross-fire on the Sailly-Fromelles road. One of their number, Private James MacKenzie, was awarded the V.C. for bringing in a wounded comrade under very heavy fire.

Jardine is commemorated on the Ploegsteert Memorial, near Hainaut, Belgium; and although he has no known grave, it is clear in his case that his remains were recovered at the time of the Christmas Truce of 1914, when a burial was carried out by both sides in No Man's Land.

This incident is described in Christmas Truce by Malcolm Brown and Shirley Seaton:

'The Adjutant of the 2/Scots Guards, Captain Giles Loder, had led his battalion's attack on 18 December [1914]. On Christmas morning he was in the front-line trenches away to the right, and observed the activity going on opposite the Gordon Highlanders as the bodies were collected and graves dug. So he climbed over the parapet and walked over the half-mile of open farmland to talk to the Germans and arrange burial for the Scots Guards killed in the same attack. He spoke with 'an extremely pleasant and superior brand of German officer, who arranged to bring all our dead to the halfway line'. There were twenty-nine in all, most of them lying close to the enemy wire. Loder sorted through the bodies, collecting the personal effects, paybooks and identity discs. 'It was heartrending', he wrote later that day in the battalion War Diary, 'to see some of the chaps one knew so well, and who had started out in such good spirits on December 18th, lying there dead, some of them with horrible wounds due to the explosive action of the high-velocity bullet at short range'. He detailed some men to bring in the rifles of his comrades but the Germans demurred at this; indeed, all rifles lying on their side of the halfway line they kept as spoils of war "
EXTRACT FROM WAR DIARY 18.12.14  
Report by Captain LODER:

On Friday Dec 18th I was ordered by Captain PAYNTER to lead an attack on the German trenches with 2 Coys of the 2nd Bn Scots Guards. The RIGHT of the attack to rest on the FROMELLES – SAILLY Road, the LEFT of our line approximately 400 yards E of this point where the border Regt joined our lines in No 2 subsection.

This Regt was to carry on from this point. I was ordered to meet Captain ASKEW and arrange details with him at 3:45pm. The attack was timed for 6pm. It was arranged that at 6pm the men should be posted over the parapet and to crawl out under the wire fence and lie down. When this was done I was to blow my whistle and the line was then to move forward together and walk as far as they could until the Germans opened fire and then rush the front line trenches. Having reached the trench I was to try and hold it, if occupied, and if unoccupied to push on to the second line. The men carried spades and sandbags. F Coy Captain Sir F FITZWYGRAM, LF Captain H TAYLOR. At about three minutes to 6pm the men were hoisted over the parapet and lay down. I blew my whistle as loud as I could but, owing to the noise of our gun fire, it appears that it was not generally heard. F coy being on the RIGHT and LF on the LEFT we began to move forward. After advancing about 60 yards I could see that in several places the line was not being maintained; some men moving forward faster than others. I could see this by the flash from the guns. I collected the men nearest to me and I found myself practically on the parapet before the Germans opened fire.

There was no wire entanglement at this point. We bayoneted and killed all the Germans we could see in the trench and then jumped down into it. There was a certain amount of shouting and confusion. I could not see far to my RIGHT or LEFT or tell what was happening on either flank. The position of the trench in which I found myself was not traversed for a distance of at least 25 yards. I ordered the men to make firing positions in the rear face of the trench. This was not easily done owing to the depth of the trench. I also told off some men to watch the flanks and, if the enemy appeared, to make traverses.  I remained in the trench some time, about one hour, and then thought I had better try and see what had happened at other places in the line. I got out of the trench, which I left in charge of Lieut SAUMAREZ, and told him to hang on. I found it impossible to get any information but could see a good many dead bodies lying close to the German parapet.

I decided to come back to report to Captain PAYNTER and explain what the situation was and suggest that, if the trench was to be held, reinforcements would have to be sent up. This he reported to the Brigadier as it then became apparent that the attack of the border Regt had failed and also that 2 Coys RIGHT had only succeeded in getting into the trench in a few places he was ordered not to send forward the remaining two Coys which were in reserve. I was then ordered to organise a digging party to sap to the German trench. This was attempted but, owing to a continuous German fire, it soon became clear that the distance, 180 yards, was too much. About 3am Lieut WARNER and a party of 10 men were led forward by Corporal JONES to the section of the German trench which was still in tact. He reached it alright and found Lieut SAUMAREZ wounded [in the hand and that a stretcher was sent out and, with great difficulty, Lieut SAUMAREZ was removed]. Lieut WARNER was ordered to withdraw. Just before dawn he accomplished this without loss. Shortly after the attack was launched Lieut OTTLEY and a party from G Coy were sent up to reinforce Lieut HANBURY TRACY. While at the head of his men he was mortally wounded before reaching the German trench and the rest of the party don't appear to have been able to reach the trench. Corporal MITCHELL, with great courage, brought back Lieut OTTLEY [Lieut OTTLEY was awarded a DSO].

During this attack the Germans don't appear to have used any bombs or hand grenades. The crossfire from well placed German Machine guns played a big part and this accounts for our very heavy casualties amounting to nearly 50%, about 180 men being killed or wounded. Among the officers:

Killed:   Captain H TAYLOR, LF Coy; Lieut Hon HANBURY TRACY F Coy
Missing:             Lieut NUGENT LF Coy [believed to have been killed]
Wounded: Lieut SAUMAREZ LF Coy; Captain Sir F FITZWYGRAM F Coy
Died of wounds: 2/Lieut OTTLEY G Coy

Captain LODER was the only officer who returned unwounded. Pte CLARKSON has an Iron Cross which he found on a dead German officer.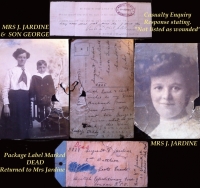 This is a very emotional group in that its accompanying paperwork starkly sums up the sudden and tragic loss of all these fine young Regular Soldiers who were established family men in the early years of the war. Here pictured are two family photos showing Mrs J Jardine and young son George. The damage to these two photographs was almost certainly caused by the German machine gun bullet which killed Daniel Jardine. The holes in the two cards have clearly occured when both cards have been on top of one another in his tunic pocket. With these is shown a package label marked DEAD which had clearly been attatched to a parcel Mrs Jardine had sent to her husband on the western front in late 1914. One can only imagine the sadness when that package was returned to her. Also here is the responding note from his unit to her enquiry as to 'if' he was on a wounded list .... sadly he wasn't.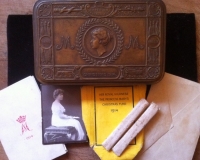 That death came suddenly to this man is evident that he still had two cigarettes saved up from his Christmas gift tin. These are all the original items which clearly had been saved up and came from his family upon sale of these historicaly important medals.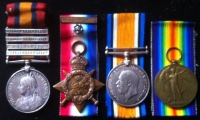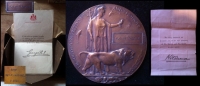 An historically most important group and an almost total account of this brave soldier's final days with his surviving personal items and pictures.
A UNIQUE RECORD OF ONE MAN'S SERVICE IN THE GREAT WAR AS PART OF THE B.E.F. 


SOLD