An interesting and scarce
"Old Contemptibles"
MILITARY MEDAL
1914 Star & Bar Trio
Defence Medal
To: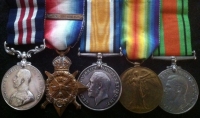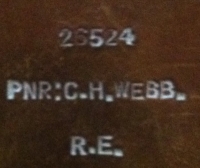 26524. Pnr, C.H. WEBB. R.E.
(Signals Company).


Awarded for Gallantry & Devotion during the action at
VERMAND, France.
With its original citation document on War Office " Royal Cypher" Crested paper as issued to the recipient.
Cecil Webb was from Abercynon, Wales and a post war address of: 25 Railway Crescent. CYMMER, Port Talbot, Glamorgan.

Entered FRANCE. 3rd November 1914.
Military Medal. L.G. 14th May 1919. (Page 6019)
CITATION READS

No. 26524. Pnr. C.H. WEBB, Royal Engineers.
For gallantry and devotion to duty. On 18th and 19th September,1918, this man worked continuously in the vicinity of..(VERMAND repairing and maintaining telegraphic lines under..) heavy (..shelling..) and bombing. On the night of 19th September, 1918, when, owing to heavy shelling, all communication was in danger of being cut, Pioneer WEBB though much exhausted, at once volunteered to go out on his lines and successfully repaired them. Throughout the subsequent operations this gallant man repeatedly repaired wires under heavy fire. His energy and gallantry in most trying conditions rendered it possible for uninterrupted communication tobe maintained between Divisional and Brigade Headquarters.
(*we did some serious detective work on the remaining type face areas which had almost been lost due to folding...there was 'just enough' left to see where he won his medal !)
THE ROAD AT VERMAND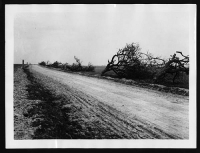 (Note) We can't remember ever having seen an original WWI citation on its original official paper before. With the loss of all the MM citations in WW2 during the Blitz these are either not available at all or are only very luckily found in the local newspapers of the period or in regimental histories.
A LOVELY GROUP. GVF+ with its original clasp.

£795