EGYPT MEDAL
Long Service Good Conduct Medal (QV)
&
Khedive's Star
(1882)
To: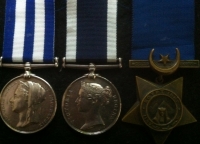 W.T. (T struck over S) ROOPE. PLUMBERS CREW (Egypt)
W.T. ROOPE. PLUMBER. H.M.S. VIVID (LSGC)
*With copy Egypt Roll where he is shown as W.S. ROOPE (hence the overstruck error on his Egypt medal). Roll listed to HMS Humber and medal sent 4th Feb 1885 to "INDUS" .
A smart looking trio to a somewhat unusual rank of "Plumber" .

GVF
£495