A RARE PUNJAB MEDAL
Clasps
GOOJERAT & CHILIANWALA
To:
ISAAC BAMBRY. 61st Foot
(The Gloucester Regiment) 

Also entitled to:
Indian General Service Medal (UMBEYLA)
Indian Mutiny Medal (DELHI).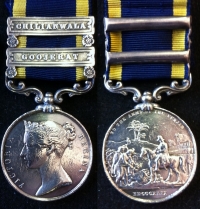 The medal is VF+ and heavily contact marked from wearing with the other two medals.
Do YOU have them in your collection?

A super chance to re-unite a broken group.
£695