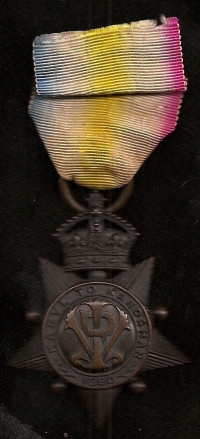 KABUL TO KANDAHAR STAR
To: 1989. Private Charles Adams. 27th Bn. (2/60 Foot) King's Royal Rifle Corps.
Impressed: 1989. PTE CHAS: ADAMS. 1/60 FOOT.)
Enlisted at Westminster 17th August 1870 aged 18. Discharged 11th Aug 1882 after 12 years service.
Includes his original Accounts Book (W.O. Form 267) and his original velum discharge certificate from Winchester (Army Form B.128). Also entitled to a two clasp Afganistan Medal with clasps Ahmed Khel and Kandahar.
On original ribbon.
Superb EF £SOLD
(EOA)