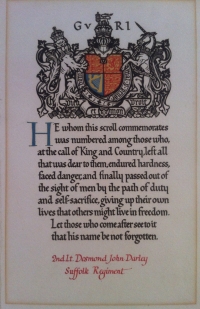 A SERIOUSLY RARE, SUPERB & TOTALLY COMPLETE

"1st DAY of THE SOMME" OFFICER'S CASUALTY GROUP.

Pair, Plaque, Scroll, family letter from France, April 2nd 1916 & Monogrammed 'DJD' Silver Vesta Box.Hallmarked at Chester in 1912.To:

2nd Lt DESMOND JOHN DARLEY.

11th (Cambridge) Battalion, The Suffolk Regiment.

KILLED IN ACTION, LA BOISSELLE, 1st JULY 1916.

[BIOGRAPHY]

Desmond John Darley , 2nd Lieut of 11th Battalion of the Suffolks, was born in 1895 in London into a wealthy family which contained a long line of army officers. His uncle, Captain Joseph Watkins William Darley of the 4th Dragoon Guards was Killed in Action on 17th January 1885 at The Battle of Abu Klea during the Egyptian campaign with General Gordon. (we also have Captain J.W.W. Darley's Egypt campaign war diary and some other personal items which are listed on the "Victorian Groups" tab.) He was the son of Major Henry Read Darley, DSO (Vic) OBE and Emily Vermeer. His father served with distinction in the Boer War & WW1. He was educated at Summerfield, Oxford, Eton, and Kings College Cambridge.

[DESMOND's SILVER VESTA CASE]

He was a keen sportsman and promising classical scholar with great musical talent. Like many studious young men of the period he probably smoked a pipe and we have here his silver vesta match case, monogrammed "DJD" & engraved "College Sports 1913". He was 18 at the time and this was probably a birthday gift from his family.
A rare item in itself from the now long closed Chester assay office. Maker Marked WN Ltd ( William Neal Ltd) Hallmark capital 'M' for 1912. Desmond obtained a commission in April 1915 and served in the British Expeditionary Forces in France and Flanders. After an arrival in France on 8th February 1916 he was Killed in Action on the First Day of the Battle of the Somme near La Boiselle on 1st July 1916. He was just 21 years old.

[THE SUFFOLKS ON 1st JULY 1916]

Seen here marching near Ely in the late summer of 1915, the 11th (Cambridge Battalion) Suffolk Regiment was part of the 34th Division which on 1st July 1916 was positioned in the front line trenches just a few hundred yards to the South East of La Boisselle. Their trench was just behind that of the 10th Lincolnshire (Grimsby Chums) Regiment in a position which was directly opposite to the now famous Lochnagar Mine Crater. The Lochnagar mine was exploded at 07:28am and four minutes later at 07:32 the Grimsby Chums left their trench closely followed by the Suffolks. NOTE: I have a personal affinity with 2/Lt Darley as my own great uncle, Pte John Camplin ( our home page soldier ) of the 10th Lincolns (Grimsby Chums) was killed during the same few moments in the same field and there is clearly a distinct probability that they fell within a few feet of each other on 1st July 1916. The Chums & The Suffolks were in parralel trenches at La Boiselle.

A historian of the Suffolks wrote:

"Before the leading wave had advanced 100 yards, before the men had time to gain their proper formation, casualties began. Soon men were being spun round and were dropping everywhere. In spite of the casualties, the advance continued until the lines of men had been reduced to bands of three and four. These, joining together without regard for company or battalion, pushed on into the thick of the fight. By 8 a.m. the battle, as far as the 11th battalion was concerned, was practically decided. All that remained of their effort was a great mass of prostrate figures, thinning gradually towards the wire. Throughout the day little rushes were attempted by survivors, many of whom must have been already wounded. Occasionally a man was seen running singly till he fell".

(Lieut-Col C.C.R. Murphy, History of the Suffolk Regiment 1914-1927 (1929).

What this contemporary writer has omitted to mention, probably to spare the reader's shock, is that many of the gallant Suffolk men who managed to get as far as the German secondary trenches fell victim to the horror of the first use of flamethrowers and were burned to death on the parapet of the German positions.

[A LETTER FROM THE FRONT]

Desmond wrote a fascinating three page letter to his father from France in April of 1916 detailing his situation. Being in small pencil handwriting and clearly written in less than ideal conditions, the letter is a somewhat challenging read but we are completing a fully readable transcript...( ongoing )

[THE LETTER STARTS]

..."April 2nd 1916" ....Dear Father, The present scene is the garden of a farmhouse about a mile from the front trenches. Blazing sun absolute stillness except for an aeroplane of ours heading ......We are all sorting out .....and writing letters......we are (worn) out after a tour of five days. The sensation of getting into pyjamas and bed after so long in .....is indescribable. I slept for 12 hours without a break"

......

[THE LETTER LATER CONTINUES]

" it is boiling hot today and I sweat very much. They have been trying to shell our billets but failed to hit them. I found indigestion and a sore tongue one of the results of 5 days in the trenches".

Desmond Darley's body was never found and as with the many thousands of men lost in action on that terrible day he has no known grave. He is commemorated with eternal honour on the Thiepval Memorial to the missing men of the Somme. This is a seriously rare Suffolk's assembly as it's not only very unusual indeed to encounter any officer's 1st July 1916 casualty group in such complete and superlative condition, but in our experience it's practically unique to have both surviving original and contemporary personal paperwork and personal items. An unprecedented situation. There were only 1018 officers killed in action on 1st July 1916 of which very very few medal groups are ever offered for sale.We can't ever remember seeing a similar lot for sale.

Fit for the very finest collection.

£3995.00 With part-exchanges welcome.