A UNIQUE AND HIGHLY IMPORTANT ARMY GALLANTRY
 R.A.F. "WAZIRISTAN 1925"  CAMPAIGN GROUP with an  R.A.F.  L.S.G.C. (5)
MILITARY MEDAL, WAR & VICTORY MEDALS,
INDIAN GENERAL SERVICE MEDAL (GEOGE V) Clasp 'WAZIRISTAN 1925'
LONG SERVICE GOOD CONDUCT MEDAL (R.A.F.).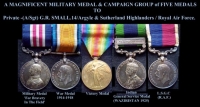 To: S-9957 Pte. G. R. SMALL. Argyle and Sutherland Highlanders.
( MILITARY MEDAL. To:  S-9957.  Pte. G. SMALL. 14 / A & S Hdrs
Pair to: S-9957 Pte G.R. SMALL. A.& S.H.
INDIAN GENERAL SERVIVE MEDAL 'WAZIRISTAN 1925 '
To: 334124. Cpl (A/Sgt) G. R. SMALL. R.A.F.
RAF LSGC. To:334124 Cpl. G.R. SMALL. R.A.F.
The Ultra Rare 'WAZIRISTAN 1925' Clasp to the R.A.F. of which only '254' were issued refers to the unique air action against the Waziri tribesmen which was commanded (and won) by Wing Commander Pink R.A.F. The action  became known as "Pink's Private War' and it was the very first time in military history that any action was successfully prosecuted entirely from the air without the assistance of ground forces.
It is known that the Army was 'very put out' at their exclusion from the action and that the commanders having seen the rise of air power during The Great War saw it as the thin edge of the wedge. There were only two R.A.F. aircrew casualties during this action who were burnt to death when their aircraft crashed in the mountains.
A Totally Unique Combination containing an MM to a top Scottish Line Regiment and an Ultra Rare Campaign medal and LSGC to the Royal Air Force.
(THIS GROUP IS ALSO LISTED IN THE R.A.F. SECTION)
Superb and Unique…£3450